A battery comprises several voltaic cells – electrochemical cells that generate electrical energy from chemical reactions. The cells in a battery have their own self-contained source of chemical energy, unlike a fuel cell which is powered by an external supply of chemicals.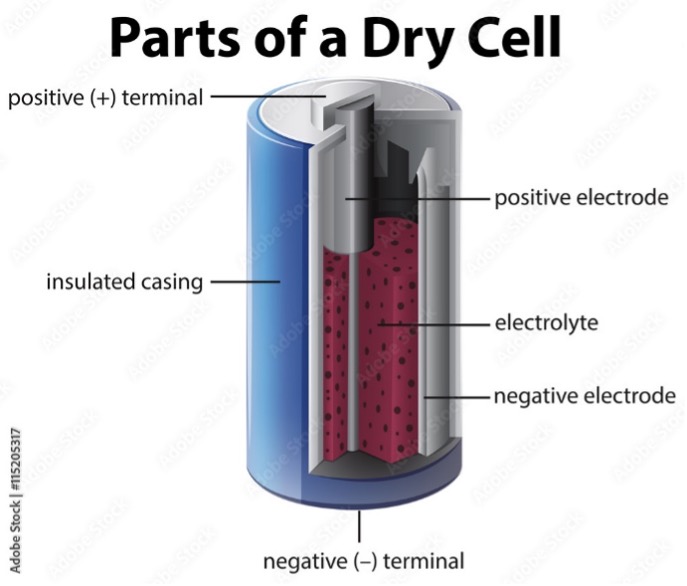 Electricity is the flow of electrons, and the chemical reactions in batteries involve atoms gaining and losing electrons (redox reactions). The electrochemical cells in a battery consisting of two electrodes where these reactions occur, known as the anode and cathode. The electrodes are separated by an electrolyte, which enables the redox reactions and the resulting ions to flow between the electrodes. The positive terminal is connected to the cathode, where a reduction reaction occurs to form negatively charged ions, atoms containing additional electrons. These ions flow through the electrolyte to the anode, where they give up their electrons. These electrons then flow through the battery's negative terminal, through the electrical circuit, back to the cathode. At the same time, positively charged ions, atoms which have lost electrons, flow from the anode to the cathode, maintaining a balance in the electrolyte.
Batteries can contain a single electrochemical cell or several cells combined in parallel, series, or some combination of the two.
Primary batteries are single-use or disposable units commonly used for low-cost consumer goods. The most common chemistry for primary batteries is the alkaline battery which reacts zinc with manganese dioxide to generate electricity. This uses potassium hydroxide as the electrolyte, which is alkaline.
Secondary batteries are rechargeable. When a battery is recharged, the direction of current reverses, and ions accumulate at the electrodes, ready to discharge electricity when they flow back. Lithium-ion batteries are a popular form of the secondary battery in which lithium ions transfer charge between the electrodes.
Different lithium-ion batteries are often described by the type of electrolyte and the material used for the electrode, which acts as a cathode during discharge. Consumer goods typically use lithium polymer batteries, which use a polymer gel electrolyte with a lithium cobalt oxide cathode. Electric vehicles typically use lithium nickel manganese (NMC) or lithium iron phosphate (LFP) cathode materials.